---
---
---
1235 N. Truman Blvd
Crystal City, MO 63019
636-937-2224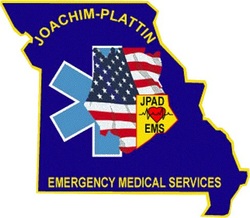 About JPAD

Joachim-Plattin Ambulance District (JPAD) is located 30 miles south of St. Louis, Mo and was formed in 1975. The district covers the southeast portion of Jefferson County and proudly serves approximately 63,000 residents. JPAD responds to 6000 calls for service a year. It is tax supported district consisting of an elected six member Board of Directors. Our emergency team consists of 29 full time paramedics and 39 part time EMT/paramedics. JPAD currently operates out of five stations located throughout the district and is staffed with two paramedics 24 hours a day

The ambulance district is committed to provide the best possible advanced life support
to the residents we serve. We have state of the art medical equipment and advanced airway
capability. JPAD works closely with Mercy Hospital Jefferson in Crystal City, MO to provide rapid cardiac
care for patients having a heart attack. We are able to do a 12 lead EKG in the field with our Lifepak 15
cardiac monitor and send it to the hospital. This provides advanced notice to the cardiology team and
greatly improves the outcome of patient care. JPAD also carries advanced medications for Rapid Sequence
Intubation. This enables us to assist patients that are in need of an emergency airway and place a breathing
tube with less complication. Along with our enhanced care, we are also able to place patients on a ventilator and do mechanical CPR with our "Lucas" automatic devise that does CPR on the patient
without requiring extra personnel.

JPAD also teaches numerous CPR classes for the public and has received grants to purchase
numerous Automated External Defibrillators (AED) for public buildings, local police and fire
departments. Here at Joachim-Plattin Ambulance District, we strive to provide great customer service and outstanding medical care. We developed this web page to keep you informed of what's going on with your
ambulance district. Please feel free to contact our administrative office if you have any questions about our service or CPR classes.

---
---
Website maintenance and design by Mike Tawfall. JPAD Copyright 2013. All Rights Reserved.